With great pleasure Corinne and Patrick delivered a session on alumni engagement in the local committees for the incoming members of the executive boards, starting their term in July.
We introduced to them to different activities and events that could be done for and with alumni, what their benefits of working with Alumni would be, the annual timeline and how the LC can learn best from alumni.
It was very motivating to see how interested the incoming EB members were in terms of working with alumni and getting to know their alumni better. Also they had a chance to get a first glimpse at the planning process for alumni activities, which we got very positive feedback on. Planning alumni activities and interactions will become an integral part of the general LC planning process, done by the EBs together with their LC coach in the beginning of the term. We are indeed very pleased to see alumni activities kicking off in all LCs of AIESEC in Switzerland.
We will continue developing ways for active AIESECers to get involved with AIESEC Alumni here in Switzerland.
In addition to the session delivered to incoming EBs, AIESEC Alumni Switzerland as also actively involved in the Train the Trainers track at Discovery. Fabian was facilitating this track together with a second faci.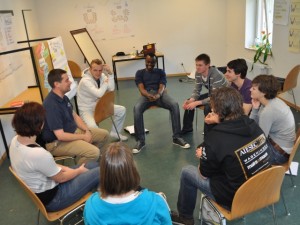 The goal of this track was to train experienced AIESEC members to become trainers for our Local Committees. After three days of intense trainings, session delivery and feedback sessions, they are now ready to train other AIESECers in and outside of Switzerland. We wish all of them a fruitful experience and many great sessions delivered!