The artistically designed ALUMNI STAR AWARD is a challenge award which is conferred by AAS on the most active local committee in Switzerland which demonstrates the most valuable contribution to the alumni network.
LC Geneva is the winner for the year 2012/2013 and the first local committee to receive the ALUMNI STAR AWARD. Next year the award may stay in Geneva or move to another LC with the best alumni activities.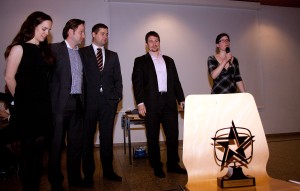 Thank you to NOTABENE GROUP for providing the STAR AWARD. The artifact has been designed and handmade in the early 1980s specifically for the recognition of talent and contribution to society. AIESEC Alumni Switzerland is proud to continue using the artifact for the same purposes.